It's time for a Giveaway Contest for a new product close to my heart!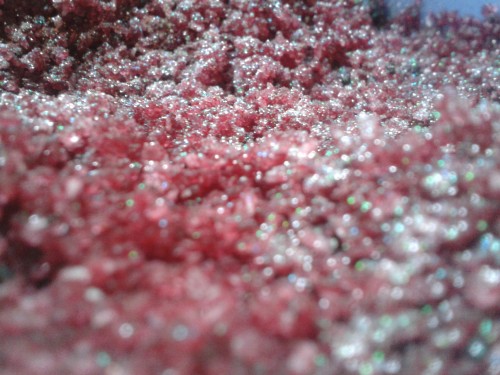 Some days you feel like you are stuck underwater, fighting the tides.
The water is a healing place to be if only you can approach its power gently.
Mermaids know how to navigate the treacherous seas of emotion and discomfort.
Shimmering sparkles and sinewy seaweed are their tools of peace.
Start with a glittering clean slate.
Let the gifts of the cosmic sea bring you cleansing and respite.
Sensual scents combine with luxurious oils and loving plants.
Slip away with a flick of your divine mermaid tail, twinging with transformation.
Re-emerge from the liquid galaxy with comfort and clarity.
*****
Baths are notoriously wonderful for their relaxation and cleansing abilities, but baths can also be an incredible tool for healing and growing physically, mentally, emotionally, and spiritually.
The water is an amazing place to find alone time to examine your thoughts, feelings, and being. When performed ritually, baths can help release and or manifest new or different states of being and wellness in a safe and comforting space. Add in nourishing and detoxifying salts, oils, and herbs such as seaweed and beet root and these powerful and rewarding effects multiply exponentially in aiding what you are trying to achieve.
The content of each ritual will look different for everyone, that is why the aromatherapy aspect is left to be customized by you so that you can set your own specific and magical intention.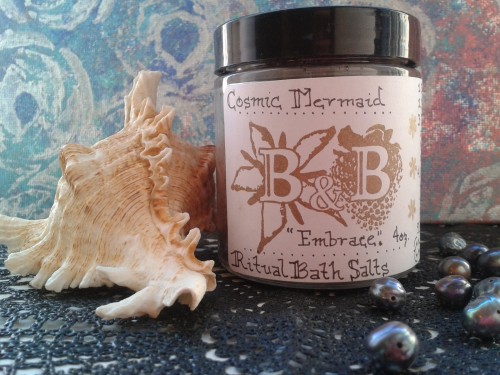 *****
Ritual Bath Salts act as a Scrub and contain many NOURISHING and DETOXIFYING ingredients that will help you release that which no longer serves you and help you manifest that which you direct your mindfulness and attention towards, while leaving you feeling soft and shimmery.
Made lovingly with:
Dead Sea Salt, Epsom Salt, Powdered Seaweed (Kombu), Powdered Beet Root, Avocado Oil, Alkanet Root Infused Oil, French Green Clay, Kaolin White Clay, Essential Oils, Sparkles, Intention.
*****
Here is how the contest works:
Share this post on Facebook, Pinterest, or Instagram then comment back here letting me know where you shared the post! (That way I will be able to contact the winner by email and get your shipping information) Tag your shared post #CosmicMermaidLove 
I will also post the contest through Borage & Berry's Facebook page and Instagram as well for more direct sharing capabilities : )
www.facebook.com/borageandberry
Winner will receive one 4 oz. Cosmic Mermaid Ritual Bath Salts in "Embrace". (Lemon Balm, Neroli, Bergamot scented for calmly and confidently embracing whatever life presents.)
Contest ends at 12 pm~Noon on Friday March 7th, 2014 (MST)
For those of you that can't wait to see if you win or already know what type of bath ritual you would like to customize for yourself, you can find these for sale here.